---
To: 1010RD; AllAmericanGirl44; Amagi; aragorn; Art in Idaho; Arthur McGowan; Arthur Wildfire! March; ...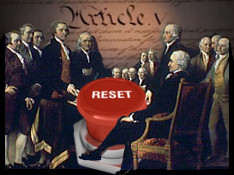 Article V ping.
The article is incorrect. Georgia laid the basis for a convention of the states, and Tennessee was just one of 7 states that applied using Georgia's application language. As of today, there are 8 states that have applied for a convention to address term limits, a balanced budget and the restoration of federalism: AL, AK, FL, GA, IN, LA, OK, TN.
I apologize for the late flagging of this article and the extremely active thread that it has generated. I hit the hay early last night.

60
posted on
02/23/2017 8:46:20 AM PST
by
Publius
("Who is John Galt?" by Billthedrill and Publius available at Amazon.)
---
To: Publius
There are many more that are working on passage of an application, many having passed one chamber already, and yet many more that have introduced an application.
The movement is much more than just 8 states.
---
FreeRepublic.com is powered by software copyright 2000-2008 John Robinson