---
To: 1010RD; AllAmericanGirl44; Amagi; aragorn; Art in Idaho; Arthur McGowan; Arthur Wildfire! March; ...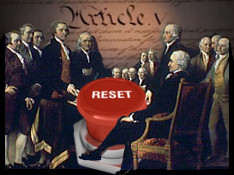 The Texas Senate has passed an application for a Convention of the States using Georgia's application language. It has to go to the Texas House next.
There are still 8 states (AL, AK, FL, GA, IN, LA, OK, TN) that have requested a convention using Georgia's application language. Texas could be 9th.

3
posted on
02/28/2017 4:15:21 PM PST
by
Publius
("Who is John Galt?" by Billthedrill and Publius available at Amazon.)
---
To: Publius
I sent my daughter to Thomas Moore in Nashua NH 20 years ago. They were tiny and took no government money. She got an old style liberal arts education to include Greek and Latin and went from there with a full scholarship to get her MBA at LSU. A year after she graduated TM the schools decided to take GI Bill students and it has been downhill since then. I would not recommend it any more.
---
To: Publius
Many states will follow TX's lead.
---
To: Publius
I am celebrating here in Texas.
Question tho, I thought the resolution passed the full Tennessee legislature last week?
13
posted on
02/28/2017 6:16:47 PM PST
by
Wneighbor
(A pregnant woman is responsible for TWO lives, not one. (It's a wonderful "deplorable" truth))
---
To: Publius; Jacquerie; Art in Idaho; Hostage
I love you guys who have the boilerplates and the literate information for debate on Article V.
I admit, I often get too emotional in my replies to the Article V dissenters. Be assured tho, I have plagerized you all to heck in some of the stock boilerplates I've been sending to Texas representatives. Y'all may not live in Texas but your well written arguments have made a difference here.
15
posted on
02/28/2017 6:24:13 PM PST
by
Wneighbor
(A pregnant woman is responsible for TWO lives, not one. (It's a wonderful "deplorable" truth))
---
FreeRepublic.com is powered by software copyright 2000-2008 John Robinson