I am a 37-year old Army Major. I have served in the military since 1998 when I graduated from high school and joined up to be a Mech Infantry Soldier in the North Carolina National Guard. One combat tour in Iraq with the Strykers, another Brigade staff deployment to Afghanistan with other Strykers, and Joint staff job in Jordan. Currently in a staff IT assignment with the 1st Armored Division. I'm married to a beautiful woman, and we have four young kids (8 yrs to 3 years) who keep us quite busy.
Three deployments, three postings with the Strykers!

No, not THAT Striker, THIS Stryker!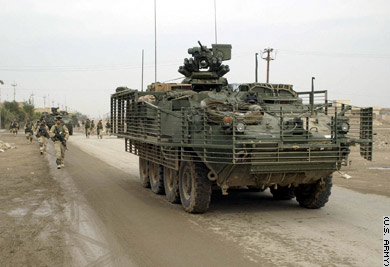 It makes no difference what men think of war, said the judge. War endures. As well ask men what they think of stone. War was always here. Before man was, war waited for him. The ultimate trade awaiting the ultimate practitioner.
--Cormac McCarthy
Blood Meridian
as quoted in Black Hawk Down
Even Islamic terrorists don't hate America like liberals do. They don't have the energy. If they had that much energy, they'd have indoor plumbing by now.
--Ann Coulter
Slander
To be sure, conservative radio talk show hosts have a built-in audience unavailable to liberals: People driving cars to some sort of job.
--Ann Coulter
"Give Us 22 Minutes, We'll Give Up The Country"
19 FEB 2003
Children need encouragement. So if a kid gets an answer right, tell him it was a lucky guess. That way, he develops a good, lucky feeling.
--Deep Thought #99 by Jack Handey
"America's tombstone will read: 'At least we were politically correct'"
--FReeper "Captainpaintball"
23 MAR 03